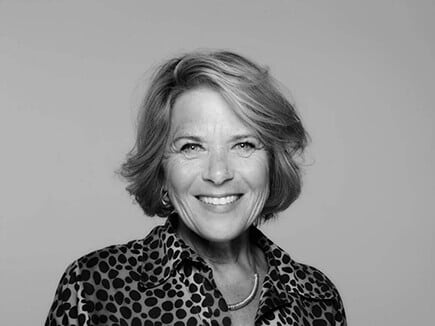 "Every single word she delivered was inspiring and thought-provoking."
Lorraine Heggessey is a trailblazing business leader, who has driven success and transformation in a range of high-profile roles in the public, private and third sector.
Her successful and varied career has spanned such prestigious roles as: the first female controller of BBC 1, CEO of independent production company talkbackThames, Founder & Executive Chair of Boom Pictures, and CEO of The Royal Foundation of the Duke and Duchess of Cambridge and the Duke and Duchess of Sussex.
"Lorraine delivered a highly captivating and insightful after-dinner speech at our recent hotel owners' event. Her dynamic and engaging storytelling not only entertained our audience but also left a lasting impression on everyone present. Her wealth of experience and achievements in the broadcasting industry provided a unique and inspiring backdrop to our evening, sparking conversations and reflections throughout. Thank you Lorraine for contributing to the huge success of our event!"
"On the day, Lorraine Heggessey totally exceeded our expectations. Every single word she delivered was inspiring and thought-provoking; she effortlessly delivered high impact leadership insight in a totally relatable and digestible way. The buzz in the room at the end of this session was unlike anything I have ever experienced."
"We asked Lorraine to talk to our audience of senior public sector leaders about her experiences of driving success and transformation in complex organisations in both the public and private sectors, her advice on driving radical change, and her reflections on leading under public scrutiny. Her insight was thought-provoking and relevant, and she took the time to draw the links between her experience and that of our audience. We have received excellent feedback about her session and would be keen to use her again for future speaking engagements."
Lorraine is quite simply inspirational; she is that perfect blend of honest, accessible and full of insight. Lorraine comes alive as much in virtual environments as she does on stage. At the start of lockdown Lorraine delivered one of our most highly attended "industry greats" masterclasses to TV freelancers who were reeling from the impact of Covid-19. Lorraine was exactly the tonic they needed – both reassuring and aspirational. "I was about to give up" said one participant "but Lorraine has totally given me the confidence and inspiration to continue."
Lorraine is a hugely engaging and entertaining virtual speaker with great advice to share from her wealth of experience as a successful leader in the content industry. As a virtual speaker, she is incredibly vivacious whilst still being able to pack a punch in terms of leadership lessons. Wit, wisdom and wonderful stories - an hour is not enough - book her for a series!
All the talks Lorraine has given for the Foundation have been interesting, informative and leavened with wit and charisma. Attendees have told us that they left feeling "uplifted", "inspired", and "energised"!
"Brilliant and engaging speaker, really nailed the points about leadership. Very clear in the messages she got across. All delegates enjoyed Lorraine's speech. A lot of humour and honesty in her style too, which worked brilliantly."
"Lorraine Heggessey gave an incredibly inspirational and motivational talk, identifying the key challenges of leadership and linking these to challenges faced by the NHS. A brilliant session that captivated our audience and left them with the thought 'making the impossible possible"
"She has a first-class pedigree and draws very astutely on her experiences to craft intelligent and compelling presentations… A perfect mix of leadership insights, honesty about the challenges of getting to the top in a tough industry and some funny and engaging showbiz anecdotes. The audience loved it. I highly recommend Lorraine as a speaker and we will certainly be booking her again for our top clients."
"Lorraine is a pleasure to work with - collaborative and highly professional. She made sure that she understood the brief and worked with us to understand what our objectives were from the event. What we got was a lively and engaging interview… that felt genuinely conversational and not overly staged - quite a skill for Lorraine to pull off."
"Lorraine has a great stage presence, the experience and brain power to ask the searching questions of very senior executives, and the peer respect from them of having held very senior positions herself. ."
"Easy presentational style, full of amusing anecdotes yet not shying away from the big industry issues… perfect offering for all those with an interest in the world of television as it moves into a new era. Thank you for a sparkling evening"
"Lorraine was a highly engaging speaker who kept her audience with her from beginning to end. Her seemingly spontaneous style belied the preparation that clearly went into what she said- her anecdotes and examples hung together well and she constantly brought her audience back to the main theme, whilst remaining entertaining."
Speech for Shell
"Your session went down very well with the participants – the best scoring of all the speaker sessions. I'm sure that I will be in touch in the future."
"Lorraine is an inspirational speaker; she was energetic and fun, and offered lots of very practical advice based on her personal experiences. The guests at the event were riveted and raved about it afterwards. She was also very generous with her time in offering informal advice before and after the session."